St. Peters, MO (June 15, 2021) – It's not every day a senior living community hosts a baby shower and mass adoption ceremony for its memory care residents, but thanks to a partnership with Angel Embrace, Clarendale of St. Peters did just that. Every resident in the memory care neighborhood received a baby doll to help combat occasional bouts of loneliness, anxiety and agitation.
"Our dedicated memory care team said seeing our residents light up with their new babies was one of the best feelings to come out of 2021 so far," says Executive Director Mark Golliday. "We're so thankful to Angel Embrace for their kind and caring program."
The life-size, soft and cuddly dolls were not gifts to the community—but to each resident personally—complete with a Certificate of Adoption. The personal attachment helps inspire purposeful activity. Clarendale residents immediately began to hold their dolls, talk to them, "feed" them—and they seemingly beamed when visitors and staff members noticed and commented on their babies. The reason is simple.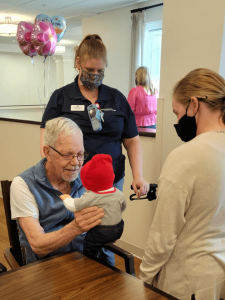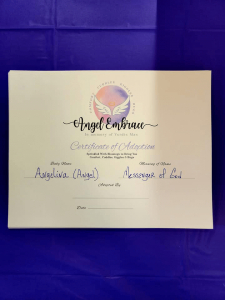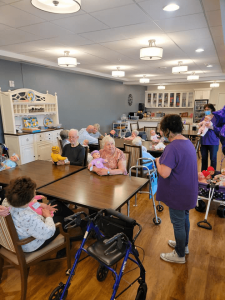 Research suggests that individuals with Alzheimer's and other forms of dementia benefit from holding and caring for a baby doll in a variety of ways. It can:
▪ Bring emotional comfort
▪ Produce a calming effect
▪ Ease loneliness
▪ Provide purposeful activity
▪ Reduce anxiety/agitation
▪ Improve social interaction/communication
The founders of Angel Embrace saw first-hand how dolls could help residents when their own mother, Verdie Mae, living in a memory care community toward the end of her 95 years of life, embraced her own babies.
"Mom adored her baby dolls," says Debbie Verdie of Angel Embrace. Verdie's Girls—as they've dubbed themselves—also partner with homeless shelters, children's hospitals, foster care and crisis nurseries because "the dolls bring comfort and reassurance to children, too, who are seriously ill or in new or unfamiliar environments."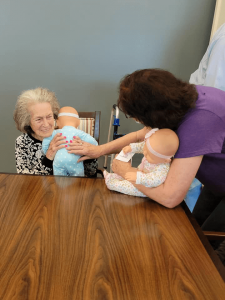 "At Clarendale, we're always looking for creative and innovative ways to improve meaning, dignity and quality of life for our residents in memory care. Sometimes it's as simple as the comfort of a baby doll," explains Golliday. "Mostly, it's a matter of providing highly skilled and dedicated care each day. Residents and their families can count on nothing less at Clarendale of St. Peters. We're so proud of Heartfelt CONNECTIONS—A Memory Care Program®. It's at the heart of everything we do, and we'd love to tell anyone interested more about it!"
Individuals interested in learning more about memory care at Clarendale of St. Peters may call 636-706-5100 or visit ClarendaleOfStPeters.com. The community, in addition to memory care, offers independent living and assisted living all under one roof at 10 DuBray Drive in St. Peters. It is managed by a nationwide leader in senior living management—Life Care Services®, An LCS® Company.
About Life Care Services
Life Care Services®, An LCS ® Company, leads the way in senior living with over 45 years of proven experience. This innovative leadership brings passion and performance through strong financial stewardship, lifestyle-centered services as well as high quality health services in communities as unique as the individuals who live in them.