A Safe, Secure and Caring Environment for Individuals with Alzheimer's and Other Forms of Dementia...
In the Memory Care neighborhood at Clarendale of St. Peters, the highly trained staff dedicates each day to a success-focused, highly individualized program of competent and compassionate care for each resident.
Families can look forward to peace of mind, knowing the proven Heartfelt CONNECTIONS – A Memory Care Program® (2022 Gold Level Award Winner) promotes dignity and a sense of pride and accomplishment. The approach results in improved self-worth, self-esteem and the best possible quality of life for residents.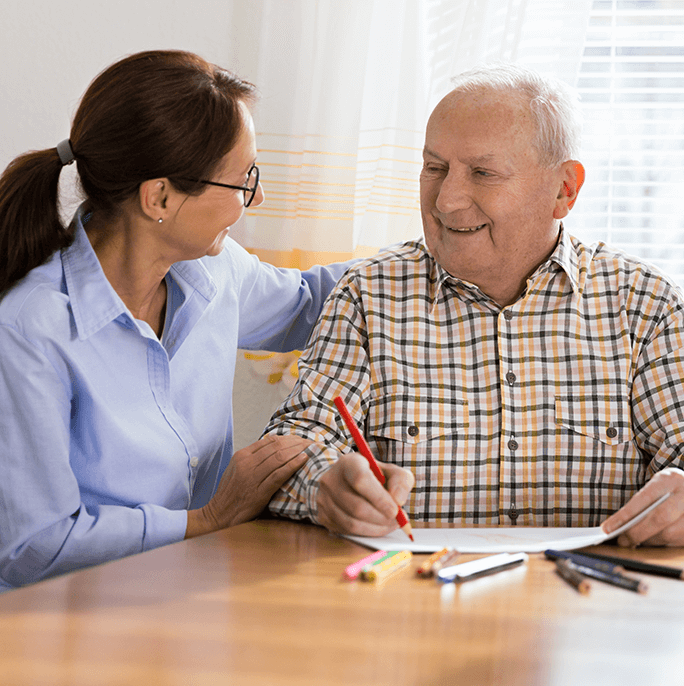 Consider Heartfelt Care
Benefits your loved one with memory impairment can expect:
A focus on the abilities that remain, rather than what is lost
A celebration of everything residents do
A schedule of life-affirming activities enriching each day
Warm and caring professionals focused on highly-individualized care addressing high quality of life
A secured memory care courtyard for outdoor opportunities, including bird watching and feeding, gardening, safe walks, seating and family visits
Predictable Lifetime Pricing Guarantee
As care needs increase, many memory care programs increase care rates charged to residents. Not Clarendale of St. Peters. Our Predictable Lifetime Pricing Guarantee locks in published costs at the time of move-in for the length of each resident's care. It offers peace of mind to guard against escalating memory care costs.
Make Health & Wellness a Top Priority
Clarendale of St. Peters takes your loved one's good health to heart and focuses on all 8 dimensions of wellness with a wide range of life enrichment opportunities as part of the Health & Wellness Navigation Program™.
EMOTIONAL
WELLNESS
Opportunities for friendship, camaraderie, and meaningful relationships that are uplifting and affirm feelings of home and family.

Environmental
Wellness
Coming together to be good citizens of the planet, respect the environment, and manage resources effectively.

Health-Services
Wellness
Our signature programs including health and wellness navigation and EverSafe 360°, ensure the highest standards and protocols and safety.

Intellectual
Wellness
A commitment to lifelong learning and intellectual stimulation through classes, lectures, seminars, discussion groups, and outings.

Physical
Wellness
A focus on strengthening your body through exercise, nutrition, and stress management.

Social
Wellness
Creating opportunities for socialization that lead to increased quality of life, feelings of belonging, increased mental function, and longevity.

Spiritual
Wellness
Opportunities to nurture your spiritual journey through a variety of services and programs.

Vocational
Wellness
Offering chances to contribute talents, wisdom, and experience to others through volunteerism, both on campus and in the surrounding community.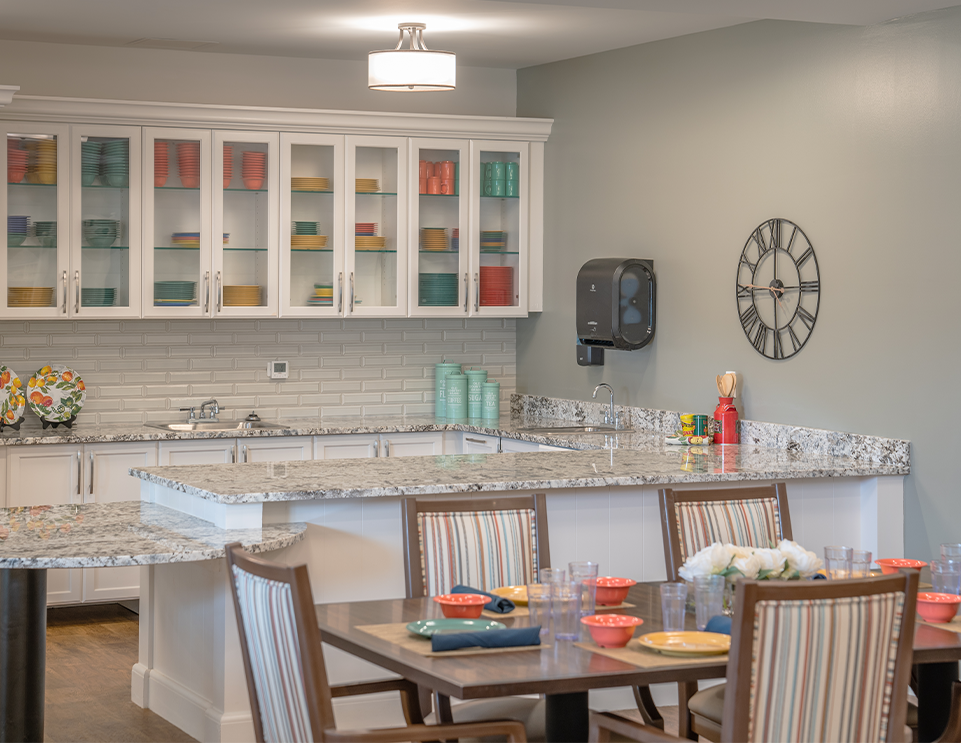 Choose Family-Style Dining
When your loved one moves to memory care at Clarendale of St. Peters, they'll feel right at home with intimate, family-style dining in our cozy dining room every day. The chef and culinary staff offer a delicious, healthy menu of fresh dishes to cater to every taste and nutritional need. Best of all, residents love the warm, open, eat-in kitchen designed for sharing meals and snacks with friends.
FAQs
Clarendale of St. Peters memory care provides a specially designed, whole-person approach to Alzheimer's care and dementia care. Residents live in a warm and friendly, family-like neighborhood with the safety of 24-hour onsite security and the compassionate care of highly trained personnel who implement proven memory care programs that encourage and celebrate remaining abilities. Engaging opportunities and activities keep residents active, social and far from boredom. It would be virtually impossible to duplicate this level of around-the-clock safety, sense of community, activity and socialization, plus specific expertise in Alzheimer's care using an in-home care service.
While both assisted living and memory care provide assistance with the activities of daily living, such as help with bathing, dressing, grooming and medication management, memory care at Clarendale of St. Peters offers a specific type of compassionate care that is specially designed for those with memory impairment. It's called Heartfelt CONNECTIONS, and each member of our memory care team is trained in the program. Engaging opportunities and activities keep residents active, social and far from boredom. With a much smaller footprint and more intimate setting, residents have more hands-on cuing, reminders and care. In addition, memory care residents live in safe and secure "neighborhoods" to promote socialization, and each individual residence offers purposeful design touches, like memory boxes outside each door and custom closets that put each day's outfit within easy reach without question or confusion.
"My mother moved to the Clarendale five months ago and I am glad that she loves her beautiful new surroundings. She enjoys the staff, her new neighbors and feels very safe. I am convinced this was the right choice for her."
"What an amazing place to work! I love collaborating with staff who want to make every day meaningful for residents. The teamwork here is unmatched."
— Testimonial from Libbye
"The steak and salmon were both well-seasoned and excellently prepared. The quality and presentation were both first rate. Easily comparable to a good restaurant. My compliments to the chef!"
"Went [to Clarendale of St. Peters] to visit my sister; beautiful community, caring staff. I think I know where I'm going when the time comes!"
— Testimonial from Giovanni
"I wish there were more than 5 stars to give the entire staff at Clarendale. The level of care, attention to detail and just pure love is simply priceless. If you're considering Clarendale, your search is over. This place is fantastic."
"I cannot say enough good things about this community! My mother was the very first resident in memory care, and my brothers and I have been EXTREMELY pleased. The staff have gone above and beyond to make Mom feel welcomed and well cared for."
Still have questions about memory care at Clarendale of St. Peters?
Contact the senior living experts at Clarendale of St. Peters directly by calling or scheduling a visit.
Contact Our Team